Kicking Jeans
You can be prepared to display your skills where ever you are without worry about changing into your uniform. Suitable for a variety of martial arts styles, Kicking Jeans are rugged denim jeans that are durable without sacrificing comfort and breathability. Special blend of denim and Elastane fibers
Description
You can be prepared to display your skills where ever you are without worry about changing into your uniform. Suitable for a variety of martial arts styles, Kicking Jeans are rugged denim jeans that are durable without sacrificing comfort and breathability. Special blend of denim and Elastane fibers with a stretch range of approximately 30%. VariFlex Twinseam design allows for optimal flexibility and movement. Color is denim blue.
Specifications
| | |
| --- | --- |
| Age | Adult |
| Apparel Type | Pants |
| Brand | Century |
| Gender | Men |
| Line | Not Applicable |
| Martial Arts Style | Multiple |
| Sleeve Length | Short Sleeve |
| Uniform Material | Cotton Blend |
Reviews (22)
Best jeans I've found, stinks they've been discontinued

Purchased a pair of these jeans about 2 years ago as a gag after seeing an old Chuck Norris advert and seeing they were still in production. It turned out the gag was on me as they are probably the best pair of jeans I have ever worn. I am in construction, jeans are my daily attire and these are the best jeans I have ever found. The extra room from the gusset, flexibility from the elasticity, the way the hybrid material feels are only additional bonuses to their durability. I have read reviews about the back of the button issue which yes overtime that may develop. It is a small trade-off to have the best pair of jeans you've ever owned. Stinks they've been discontinued, time to stock up on over sized pants and find a tailor.

Satisfied again

These pants are perfect for the reason i bought them... I feel very comfortable i will be able to preform on the street or any location that i need too, for whatever reason... I am very satisfied and the price is reasonable also...

Love this jeans but i am have found two major flaws.

Note i have been a customer for about 6 years. Tho theses are my favorite pairs of jeans being TKD is one of my major arts of study. And each 2 Sets of 2 jeans have lasted me about 3 years each of wear. I wear them at least 6 out of 7 days a week. With that said the to issues... Issue 1: After about One year the thin button backing starts to bend and brake creating a sharp edge that does cut into skin. Issue 2: After two years the front pocket start to tear and become usless. Another thing to note: After about three year i find that the jean fabric tears at the knee , crotch area or back pocket corners. I don't list this as problem only because of how much i wear these jean makes me expect this. But i do feel it is something to be aware of. If they can strengthen the button and front inside pocket fabric; these jeans would be perfect.

Your chuck norris jeans

Can I buy someone's Chuck Norris action jeans? Name your price. (Reasonable) My email is paintmebluebro@yahoo.com. Size and fit does not matter. Thanks y'all!

Best Jeans EVER

Best Jeans you can ever buy there ant no where else you can get a comfortable & flexible pair then these. Yeah it's a little pricey for just one pair but it's worth it because each pair lasts you up to 10 years if not longer.

Best Jeans EVER

Best Jeans you can ever buy there ant no where else you can get a comfortable & flexible pair then these. Yeah it's a little pricey for just one pair but it's worth it because each pair lasts you up to 10 years if not longer.

From 1988 to 2020

My first pair of Chuck Norris' Kickin Jeans lasted until I got fat and didnt fit anymore. (34x34) They're still in my closet or storage somewhere. Best Jeans I ever owned The new ones will be 38x34... woohoo!!

Century Kicking Jeans

I wore these years ago. Kicking jeans are better for kicking and century's kicking jeans look great.

Favorite jeans

Feels like I'm wearing comfortable stretchy gi pants but looks like I'm ready to go out, would be awesome if I could get some 32X32 though

I bought a pair of these back in 1980

I bought these as a young teen around 1980. Back then they had the Century logo on the back and Chuck Norris wore them in the advertisement. I'm pretty sure I sent a check in the mail. I wore them and imagined fighting ninjas and bad guys. Pretty sure Chuck wore something like them in his movies. But who knows!

Great

Love these jeans!! All 3 of my boys were them too!

Amazing

First of all saying i totally love these seems almost like a understatement due to how great they are! Most comfortable jeans you will ever find. I am very hard on jeans and my kicking jeans have lasted at least 3 years of frequent wear. I tend to have them on at least twice a week all winter and youd never know it by looking at them. Only complaint i have is they need to come in black! Come on century many of us only wear bla k pants and would but a truck load.

selling it in black would be wonderful

selling it in black would be wonderful

Arse kickin

Great stretch for more than just kicking great on a motorcycle too!!

More Colors PLEASE

Hell yeah! These are now my favorite pair of jeans. They look like a nice pair of designer jeans, but they don't restrict and suffocate your legs! Now I need pair of them in several different colors and washes!

Fantastic

These kicking jeans are awesome. Great stretch, they fit well, and I finally found a pair of jeans that isn't enormous around the waist area. Very comfortable. I've hiked in them, kicked in them, and worn them all around. I'm about to buy another pair.

yes, yes to this.

I cant go back to normal jeans. gimmie morrre colors please!

Kicking Jeans

I am shocked at how much I really like these. They're 98% cotton, 2% spandex. Very comfortable. I put them on, and can kick without restriction just like in my Gi pants. They move and stretch with you. I don't know how they're going to wear, but I'll find out overtime. I'll be buying these again.

yes

It does the thing well, gimmie more colors :O

Sizes run small

Just got a pair of these for one of my adult male students, and the length was good and seemed to have good flex, as was hoped. The problem is that the waist sizes are or seem to run about a size or so small. So if you need a 36 inch waist, recommend ordering a 38 inch.

More like Arnold KICK-zeneger

WHAACHA! WABOMGA! PERCHEW! HYAA! BOGABOGA! WHYYYYYYEW! FLOOOSH! MAMA MIA! KABOOM! BADA BING! HEYO! BOOM CHACA! WHZZZZZOOOOOOOM! Needs better crotch gusset though. 4 Stars. Needs better

Kicking jeans

Love these. Comfortable and they look nice.
A BRIEF HISTORY OF KICKING JEANS
The year is 1977. A new tech company, called Apple Computer, has just become incorporated, Jimmy Carter is the 39th President of the United States, Elvis Presley has given his final concert. And in Oklahoma City, Century Martial Art Supply, Inc., has put out a new product: Action Jeans.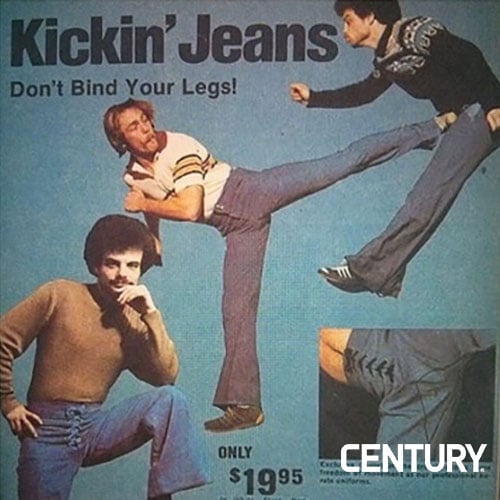 Several well-known martial artists like Bill "Superfoot" Wallace and Ernie Reyes Sr. made appearances in Action Jeans ads. One ad in particular features Reyes and his son, Ernie Reyes Jr., then just a child, both poised mid-high kick in the jeans (this was long before the younger Reyes would reach the height of his kickboxing prowess and movie star fame).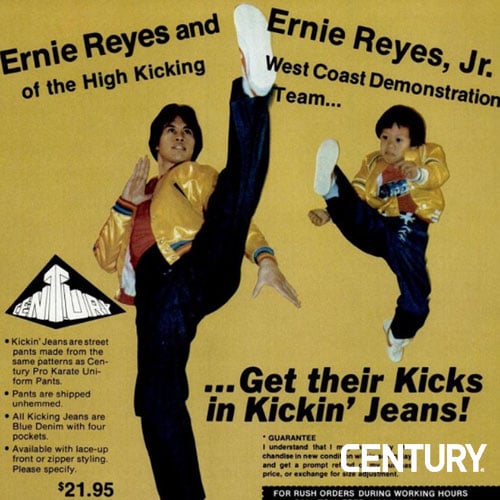 Action Jeans had a good run, from 1977 to 1991. Then the line was retired, to the disappointment of denim-wearing high-kick aficionados everywhere.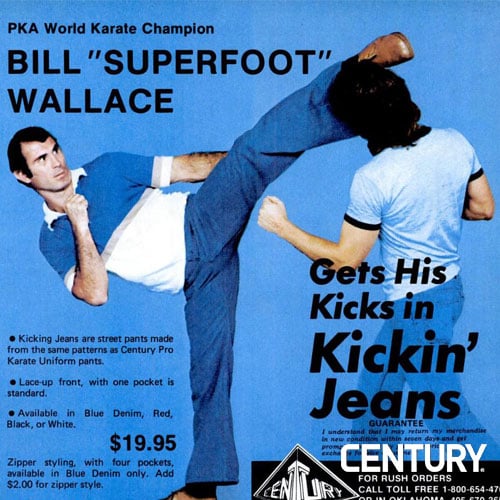 But they say you can't keep a good man down, and apparently, you can't keep a good pair of jeans down either. Twenty-plus years since the jeans had discontinued, people were still talking about them, trying to find a pair for sale.
And so, from the ashes of the Action Jeans rose the Kicking Jeans. Century re-introduced the popular pants in 2015 at the Martial Arts SuperShow in Las Vegas, new and better than ever! Kicking Jeans are made from a blend of denim and Elastane fibers, which, in nontechnical terms, means "really stretchy fabric." The Kicking Jeans look and feel like normal jeans, though, not Spandex or any other "jegging" material. No, Kicking Jeans are in no way related to jeggings, unless it's as an older, and much cooler, cousin.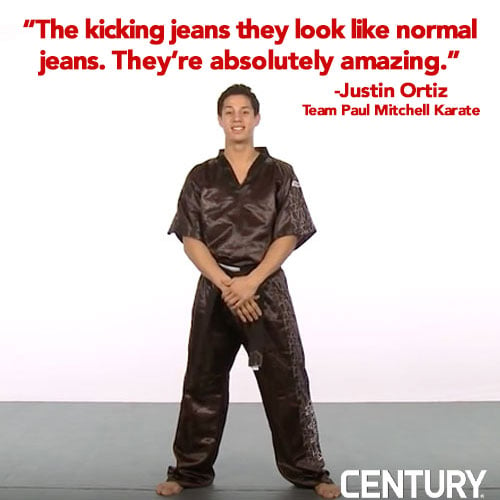 What made the jeans unique at the time, and what still makes them Facebook-post-worthy today, is that you can conceivably kick someone in the head while wearing them. They're that flexible. They're the jeans equivalent of the one little show-off kid we all knew who did gymnastics in grade school and could contort her body like a pretzel.

Century Martial Arts has a variety of products for your martial arts training needs. From uniforms, belts, sparring gear, training bags, fitness equipment, and more.