BOB - Body Opponent Bag
A great partner for sparring techniques or target work, the original BOB - Body Opponent Bag is a life-like mannequin with a vinyl "skin" for more realistic self-defense training. BOB features seven height adjustments from 60 inches to 78 inches tall. BOB is ideal for punching and strikes. Made for
Description
A great partner for sparring techniques or target work, the original BOB - Body Opponent Bag is a life-like mannequin with a vinyl "skin" for more realistic self-defense training.
BOB features seven height adjustments from 60 inches to 78 inches tall. BOB is ideal for punching and strikes. Made for home use. Also look for the BOB XL, which has a longer torso for more training possibilities, including kicks.
Not compatible with the BOB jacket #101695. Bag not intended for commercial use.
BOB Dimensions and Construction:
Mannequin is 30" tall and approx. 20" wide (width and diameter vary at head, neck, chest, waist)
Base has a diameter of 24" and is 19.5" tall (not counting internal stem)
Base can be filled with sand or water
Convenient port with screw-on cap on top of base for filling
Holds up to 270 lbs. of sand or water
Height adjusts from 60" total to 78" total
7 height settings total
BOB's "skin" is made of vinyl, with an internal hard plastic cylinder for structural support
Base is made of hard, sturdy plastic
90-day warranty. Please see our "Terms and Conditions" page for additional information. USA/Imported. Oversized shipping rates apply.
You've seen him on TV shows, in your favorite movies, in news clips and in the windows of your local dojo. That's right – it's BOB, the Body Opponent Bag!
BOB was the first-ever mannequin training bag for martial arts. So, what is it that makes a Body Opponent bag so special? BOB gives you a realistic human torso shape for a striking surface. Since you are training to fight against a human (presumably) this shape allows you to train with a higher level of accuracy than a regular heavy bag or punching bag.
Can you imagine always having a training partner readily available? Someone who won't flinch away from the toughest punches and kicks? That's what it's like to have BOB in your home or gym!
Space isn't an issue with BOB, either! The Body Opponent Bag is a freestanding bag, with a rounded base. To move BOB, you can easily tip the base onto its side and roll it into a storage space. Keep it in a corner, closet, or other out-of-the-way area until it is time to train. Then bring it out and get to work!
BOB is ideal for training in just about
all
standing martial arts! Any martial art that would use a regular punching bag, heavy bag, or heavy hanging bag, will work with BOB as well. Karate? Sure! Taekwondo? Of course! Tang soo do, muay thai, kung fu? You bet! And if you train a martial art with tactical applications, like krav maga or jeet kune do, then you'll really notice the value of BOB. You can practice strikes that are not competition legal, like slaps, palm heel hooks, eye jabs, and more.
If you want an even bigger mannequin bag, make sure to look at the BOB XL freestanding bag!
Specifications
| | |
| --- | --- |
| Height | Not Applicable |
| Age | All Ages |
| Bag Type | Freestanding |
| Bag Weight | Variable Weight |
| Brand | Century |
| Gender | Not Applicable |
| Line | Not Applicable |
| Martial Arts Style | Multiple |
| Material | Synthetic |
| Hazardous material | False |
Reviews (10)
Kidnapped

I had bob for a couple years and feel it is the best tool mixed with footwork for punching accuracy. Punching and kicking is great, unfortunately my bob was kidnapped. I moved from my house and left him at my parents for storage. My mother decided to put bob out front of their house for Halloween with a costume then Christmas in another cleaver Santa costume..... On valentine's day he was abducted...... A trail of hearts covered clothing items stretched out the driveway..... Hopefully bob is living his best life wherever he is

Sparring and Kissing partner

I bought bob so me and my wife could practice self defense. But one night I find he's also good for practicing kisses. I punched bob and then immediately after we made out.

Wow. Very cool.

I found Bob to be easy to set up once I used soap n water to help Bob slip on his insert easier. Then I beat on Bob In many ways and had a great work out. Its a big plus to have a Bob for accurate striking. I like it better than a punching bag. I also attacked Bob with a bo staff and think he is gonna be a perfect target subject. The realistic body neck and face makes Bob a completely different striking work out that a punching bag. So far I am a huge fan. I would have gotten the Xl bob but Dick only carrys this bob. I hit hard and Bob seem to take it well. A little movement when you strike butt that adds to the realistic nature of hitting Bob. Body.shots hook, upper cuts and jabs all felt great. Chops throat punching spinning back fist. I love this guy Bob. And he remains so kind and gentle through the whole beating. Lol 5 stars for bob. And 4.5 stars for Dicks. The store is huge and should Carry more selection of inventory. Tks Century great product

BOB is the man...

I purchased Bob after about my 3rd time going to the store, almost buying him, and deciding he was a bit too costly for what it was... this is an absolute mistake. The price is the quality- simply said. I have at my home a traditional heavy bag, which I still enjoy and use, but BOB takes this to another level; for one, if you use water (which I recommend) Bob is very versatile. On nice hot sunny days I will take Bob outside and get a brutally sunny workout then clean him off, drain him out, and bring him back inside. Heavy bags are fixed to the ceiling or stands. BOB's material will sweat with you, literally, and he will become more slippery are the fight goes on and realistically harder to maintain your clinches and add that little extra sting to your skin when hitting. BOB also has perfect details like his little protruding solar plexus which allows you to really aim at things unlike a leather bag. He also moves much more and gives you the realistic feeling of your target giving in to your punches a bit more, moving away and then back toward you, and you'll even miss quite a lot if you are actually sparring him like a heavy bag (also realistic). Just an all around excellent product and I was worrisom driving home at the damage to my wallet but my first session on him made it clear he was worth it. Also, I really originally would of preferred the BOB XL to this one- but I do full mma workouts on him and every target you need besides the legs is there and this product is definitely enough to get you by. Just my two cents. You won't regret this purchase. P.s. Bob has a super punchable face.

Awesome

My neighbor is named Bob and I really dislike him. Bought it and boom right away beat it up and felt so much better!

awesome product

i have had bob for 14 plus years. He may be falling apart now but he is still holding up. He is a really fun product to have. Thanks Century for an awesome product. I would definitely buy again.

Flat Screws

So ... I bought the BOB so i could use it specifically in some anger management work i offer my clients. I had to do my own anger management after mounting the BOB with the SHORT FLAT HEAD SCREWS provided. Please provide something just a little more convenient for your customers, and save them from the headache and frustration of those nasty, antiquated, hard to use screws! Apart from that, I LOVE my BOB. He takes a beating and NEVER talks back. :-) Brad. - Peaceful Warrior Consulting.

Good work out

For the price of this, I would of rather seen better quality in the way you bolt the body on. Two out of the nuts stripped out while installing the body. Would be nice if they included lock tight in the kit screws keep backing out. The rest of bob is awesome. I like the realistic feeling while working with it. Wish I would of bought the bigger version.

best workout partner

5 stars for boxing and mma WOW! DEFINITELY recommend buy for serious good health peoples.

Incredible

Hitting feels more natural compared to traditional heavy bags. It has a decent weight and when filled does not seem to have a chance of falling over and that is from someone that weighs as much as the dummy! if you are starting out and have no idea what to start with then I highly suggest this.
WHY BUY CENTURY TRAINING BAGS?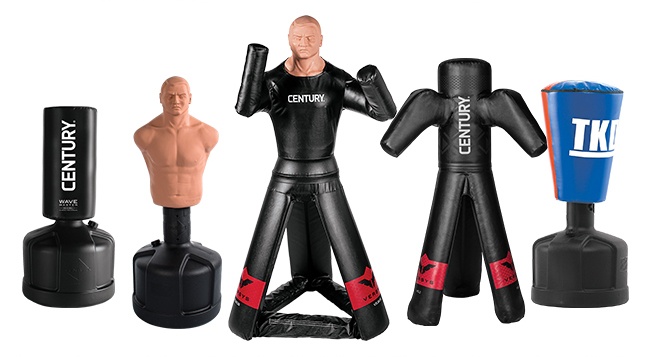 40 Years of Innovation
For the last 40 years, Century has been at the forefront of martial arts innovation. One of our best inventions (if we do say so ourselves!) is the freestanding training bag. These days the bags are so ubiquitous you might have seen one without knowing it came from Century. Back in the early 1990s, that certainly wasn't the case.
All training bags used to be hanging. These are great bags. In fact, they're still popular. But they posed a problem for gym owners whose schools didn't have the right structure, or those who didn't want to drill into their ceilings. Bag stands partially alleviate the problem, but they are hard to move and don't let you work all the way around the bag.
But Century's Research and Development team members are problem solvers. In 1995, we released the world's first freestanding bag, the Wavemaster®. It was a hit! Today, we offer an entire line of Wavemasters, from the Cardio Wavemaster® to the heavy-duty Wavemaster® 2XL Pro. In 1998, we introduced another game-changer – BOB® the Body Opponent Bag. BOB was the first freestanding training manikin and has also evolved into a line of his own, with the BOB® XL, Bobby Bully and VS. BOB®.
Sometimes you need something to slam as well as strike. So Century created the Versys™ line. Check out the versatility of the Versys™ bags here, on our site.

Different Bags for Different Needs
Why so many different bags, you ask? The answer is simple. It's because there are so many different martial arts! And why are there so many different martial arts?
Well…
That might actually take a book or two to answer. We'll just stick to covering why the bags are the way they are, and what they're used for.
Taekwondo is a kick-heavy art, so it requires a sturdy bag with a large surface area. The Taekwondo Wavemaster® was built to accommodate. Other bags that are great for taekwondo are the Wavemaster 2XL Pro (the version with scoring zones, if you're super cool!), or a hanging heavy bag like the Creed Muay Thai Bag. The 2XL and Creed bags are also great for Muay Thai, another kicking art, as well as karate.
What about martial arts that have little, if any, kicking? Judo and Brazilian jiu-jitsu players will both benefit from training using the Versys™ VS.2 bag. Like all the Versys™ items, it is freestanding, but features tripod legs and two hooked arms so you can work throws and takedowns. Unlike a human, it doesn't complain about being slammed into the mat again and again. It's perfect for groundwork practice.
These are all common sport martial arts. If you're learning a martial art primarily for self-defense – like Jeet June Do or Krav Maga, the BOB® bag (or BOB® XL or VS.BOB®) is what you want. This manikin bag lets you practice striking a human-shaped target, complete with a scowling face so you won't feel bad for hitting him.
The Torrent T1 and Torrent T2 Pro Bags are one of our newer designs. They're great for both at-home and at-the-gym training, but they were made to be easily moved on and off the floor. The base can be rolled either way without loosening, so if you need to clear floor space in a hurry, these are the bags for you!

Made in the USA
There are many great things about getting your bags from Century. One is the variety. Another is knowing you're supporting an American company. Our headquarters are located in Oklahoma City and employ around 200 Oklahomans, or "Okies," as the locals say. Our facility includes a warehouse where we make Wavemasters™, BOBs®, and many of the other cool products you get from Century!

Tested by Champions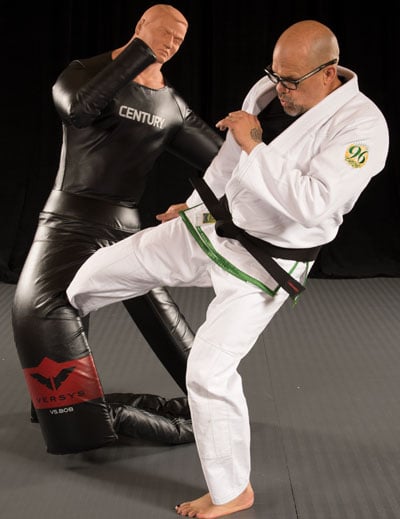 One of the perks of making our own products on site is that we're easily able to test them in the real world. Not just your standard quality-control test (although we do that too), but a martial arts quality test.
Many people in our company are martial artists. We have two on-site training studios, and during the week, over a dozen classes are taught at lunch and after the work day. Whenever our R&D team has as new product, they bring a prototype to class. Everyone has fun kicking it, punching it, slamming it, and beating up on it as much as possible. If it breaks, R&D takes the prototype back and engineers a way to make the final product better. If it doesn't break, they make it better anyway, because they thought of some improvements while watching the class work.
Century also works alongside professional martial artists when making our products. We send samples of certain new products to John Hackleman's The Pit gym, where MMA fighters test it out. We've also teamed up with Matt Hughes and Ricardo Liborio, to name a few.

Highest Quality Materials
We have more official tests too. Our products undergo rigorous testing to ensure they meet industry standards. We fill our bags with high-quality material. We firmly believe that the better the equipment you train with, the better your training results will be.

Branded for Excellence
You know the importance of having your school's name and logo on your uniforms. It creates a unified feeling of team spirit and helps promote brand recognition. Take those benefits one step further by branding your bags with your gym's logo as well! Custom bags make your school look great. They add another element of professionalism to your environment. If you don't have a logo, Century will help you create one. Just give your Century Customer Service Representative at (800) 626-2787 with any questions!