Headlines
IT'S TIME FOR BOBOWEEN!
Thursday, October 18, 2018
Happy (almost) Halloween! I'm here with a very important announcement – Century's BOBoween contest is coming up!
Happy (almost) Halloween! I'm here with a very important announcement – Century's
BOBoween contest is coming up!
What is BOBoween, you ask? Well, first of all, you should watch more Century Live videos on Facebook and then you would know! But I'm not judging (except I am. Slightly). Anyway. BOBoween is one of the most important October holidays (
after actual Halloween, of course
). BOBoween is celebrated by dressing up your
BOB
,
BOB XL
,
Versys BOB
, or, heck, even
Bobby Bully bag
, in any kind of crazy, kooky, funny or silly costume!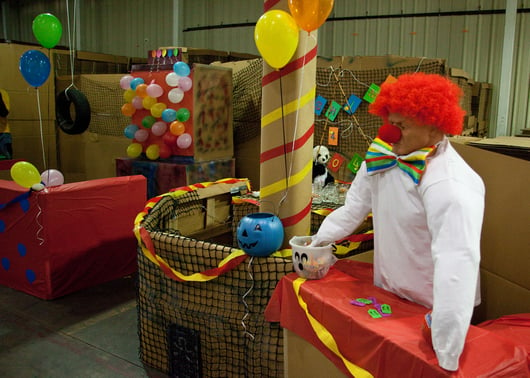 BOB's perpetual scowl doesn't make clowns any less terrifying.
This started, as many good things do, at Century headquarters. Specifically, as a contest between the different departments to see who could come up with the best costume for their BOB. Every year, BOB bags are broken out of storage or borrowed from the Show Room and set up around the building. Most departments go all out, decorating not just their BOB but their rooms/offices/general areas.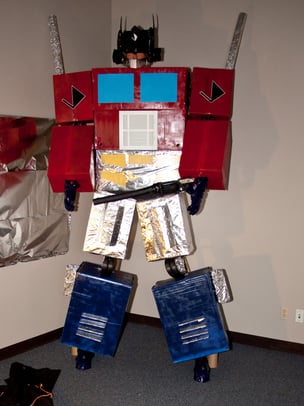 BOBtimus Prime.
On the day of the BOB contest, everyone takes twenty or so minutes to leave their desks and wander around the building, looking at other departments' BOBs. At panel of judges comes around to review the BOBs, and choose the winning department to get a pizza lunch.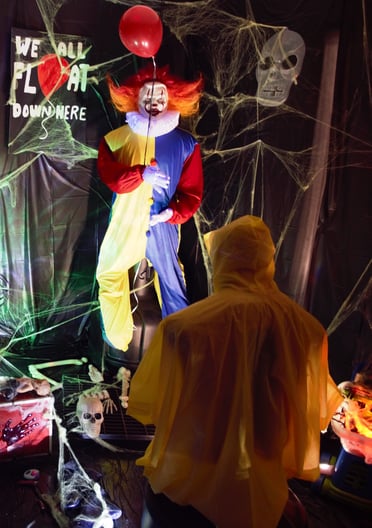 "It," a la BOBoween. Sadly not from our IT department.
Now the tables have turned, because it's
my
turn to get to be a BOBoween judge – for
you
! That's right, this year the BOB Contest is going beyond Century's walls and out to you! You're invited to dress up your BOB (or BOB XL, etc…) and submit your pictures to our Facebook page, where Danielle, Justin (our new social media guy) and I will judge them! Just make sure that you share them on the Century Facebook page, on or before October 31
st
, with the hashtag #BOBoween18.
What's in it for you? A super-special awesome prize, of course: one of Century's custom-made Santa gis! Last Christmas, these limited-edition uniforms disappeared faster than you could say "Ho-ho-ho." We brought them back and they're selling like mad again, but now, you have the chance to win one for free. Succeeding in one holiday is setting you up for success in another! Pretty cool, right?
THE RULES
There's really nothing I need to tell you here…some gore is fine, but please don't use anything obscene, or trashy. Basically, nothing that you wouldn't feel comfortable with a five-year-old child seeing, or that you would feel awkward explaining to that five-year-old's parent
why
they'd seen it.
SUBMITTING YOUR BOBOWEEN ENTRY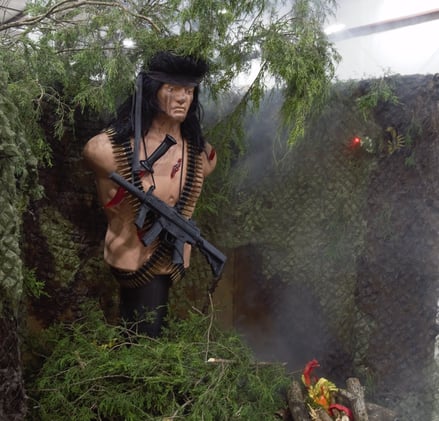 RamBOB.
Take a picture (or video!) of your dressed-up BOB and post it on the
Century Martial Arts Facebook Page
! Make sure you use the hashtags #BOBoween18 and #CenturyMaritalArts. Make sure you have it submitted
on or before Halloween (October 31st) in order to be considered!
Danielle, Justin (our Social Media guy), and I will choose the winner!
WHAT YOU WIN
We can't send you pizzas from Oklahoma; there's no telling what state they'd arrive in. But we can send you something even better – a custom-made Santa Gi! These special gis are perfect for wearing during your
Holiday Event
and on any other special wintertime occasion! Last year, they were such a hit that they sold out practically as soon as we'd announced them – this is your chance to get one for free!
What are you waiting for? Get to Facebook and post your BOBoween costume NOW!