BOB XL - Body Opponent Bag
Ever since we created BOB, the Body Opponent Bag and original mannequin bag, martial artists, fitness pros and athletes have loved training on him. They couldn't get enough of him. They wanted more of him… literally. So, that's exactly what we gave them! Built for commercial use. The BOB XL features
Description
Ever since we created BOB, the Body Opponent Bag and original mannequin bag, martial artists, fitness pros and athletes have loved training on him. They couldn't get enough of him. They wanted more of him… literally. So, that's exactly what we gave them! Built for commercial use.

The BOB XL features an extended torso that has over an extra foot in length of striking area, which takes the form of a lower abdominal area and shorts. You can practice throwing lower punches and kicks, as well as groin shots for tactical or self-defense training.

Of course, BOB XL features the same iconic scowl that made his predecessor famous. And just like BOB, BOB XL is the ideal training bag for specific target training, including eye gouges/wipes/jabs, neck and throat strikes, slaps, hooks to the jawline and so, so much more. BOB XL's humanoid shape is the next best thing to practicing on a real human – maybe better, when you consider that BOB XL will stick around to train with you even after five heel kicks to the face.

Tired of training with partners who are way too tall or too short? BOB XL has you covered! The "body" area of the bag can move up and down the central stem (or be removed entirely for transport and storage reasons). There are seven height settings between 60" and 78" total height.
Like other Century freestanding bags, BOB XL features a rounded base. This base can be filled with sand or water and weighs up too 270 lbs. when fully filled. Why a rounded base? Easy – when you need to move BOB XL, all you have to do is tip him onto the side of the base and roll him! Despite the weight, this method makes relocating him a one-person job.

BOB XL is a great training tool for any martial art. He is sturdy enough for kickboxing, muay thai, karate, taekwondo, and other striking arts, and his features allow him to be used for tactical training arts such as jeet kune do and krav maga.

Manikin: 42" x 20" x 10" Base: 24" Diameter x 19.5" Tall
Approx. 270 lbs. when filled with water.
Adjustable height: From 60" to 78"



Specifications
| | |
| --- | --- |
| Age | All Ages |
| Bag Type | Freestanding |
| Bag Weight | Variable Weight |
| Brand | Century |
| Gender | Unisex |
| Line | B.O.B |
| Martial Arts Style | Multiple |
| Material | Synthetic |
| Hazardous material | False |
Reviews (2)
One of my favorite bags

Just ordered a Bob XL and I can't wait for it! I've only ever had the normal bob but I'm excited for this new one! Definitely allows for more targets for boxing and kicks!

Great training aid

The addition of BOB XL to my school as been awesome. Nothing against the Wave Masters, but having the human look for targeting is so much better. Really gives students the experience of striking a life like item at full power and not worrying about hurting someone else.
WHY BUY CENTURY TRAINING BAGS?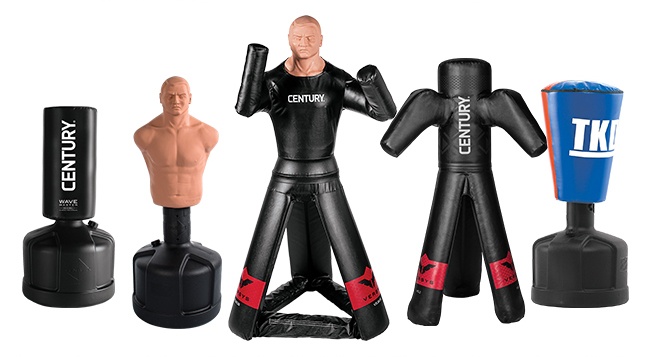 40 Years of Innovation
For the last 40 years, Century has been at the forefront of martial arts innovation. One of our best inventions (if we do say so ourselves!) is the freestanding training bag. These days the bags are so ubiquitous you might have seen one without knowing it came from Century. Back in the early 1990s, that certainly wasn't the case.
All training bags used to be hanging. These are great bags. In fact, they're still popular. But they posed a problem for gym owners whose schools didn't have the right structure, or those who didn't want to drill into their ceilings. Bag stands partially alleviate the problem, but they are hard to move and don't let you work all the way around the bag.
But Century's Research and Development team members are problem solvers. In 1995, we released the world's first freestanding bag, the Wavemaster®. It was a hit! Today, we offer an entire line of Wavemasters, from the Cardio Wavemaster® to the heavy-duty Wavemaster® 2XL Pro. In 1998, we introduced another game-changer – BOB® the Body Opponent Bag. BOB was the first freestanding training manikin and has also evolved into a line of his own, with the BOB® XL, Bobby Bully and VS. BOB®.
Sometimes you need something to slam as well as strike. So Century created the Versys™ line. Check out the versatility of the Versys™ bags here, on our site.

Different Bags for Different Needs
Why so many different bags, you ask? The answer is simple. It's because there are so many different martial arts! And why are there so many different martial arts?
Well…
That might actually take a book or two to answer. We'll just stick to covering why the bags are the way they are, and what they're used for.
Taekwondo is a kick-heavy art, so it requires a sturdy bag with a large surface area. The Taekwondo Wavemaster® was built to accommodate. Other bags that are great for taekwondo are the Wavemaster 2XL Pro (the version with scoring zones, if you're super cool!), or a hanging heavy bag like the Creed Muay Thai Bag. The 2XL and Creed bags are also great for Muay Thai, another kicking art, as well as karate.
What about martial arts that have little, if any, kicking? Judo and Brazilian jiu-jitsu players will both benefit from training using the Versys™ VS.2 bag. Like all the Versys™ items, it is freestanding, but features tripod legs and two hooked arms so you can work throws and takedowns. Unlike a human, it doesn't complain about being slammed into the mat again and again. It's perfect for groundwork practice.
These are all common sport martial arts. If you're learning a martial art primarily for self-defense – like Jeet June Do or Krav Maga, the BOB® bag (or BOB® XL or VS.BOB®) is what you want. This manikin bag lets you practice striking a human-shaped target, complete with a scowling face so you won't feel bad for hitting him.
The Torrent T1 and Torrent T2 Pro Bags are one of our newer designs. They're great for both at-home and at-the-gym training, but they were made to be easily moved on and off the floor. The base can be rolled either way without loosening, so if you need to clear floor space in a hurry, these are the bags for you!

Made in the USA
There are many great things about getting your bags from Century. One is the variety. Another is knowing you're supporting an American company. Our headquarters are located in Oklahoma City and employ around 200 Oklahomans, or "Okies," as the locals say. Our facility includes a warehouse where we make Wavemasters™, BOBs®, and many of the other cool products you get from Century!

Tested by Champions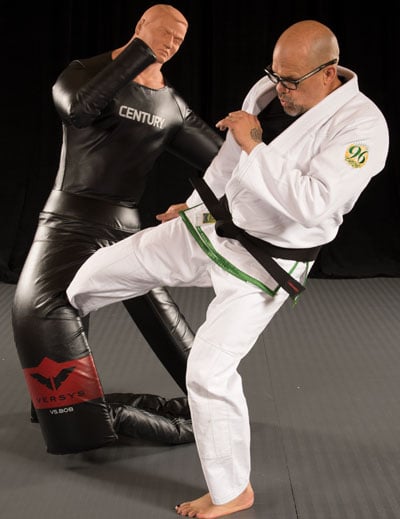 One of the perks of making our own products on site is that we're easily able to test them in the real world. Not just your standard quality-control test (although we do that too), but a martial arts quality test.
Many people in our company are martial artists. We have two on-site training studios, and during the week, over a dozen classes are taught at lunch and after the work day. Whenever our R&D team has as new product, they bring a prototype to class. Everyone has fun kicking it, punching it, slamming it, and beating up on it as much as possible. If it breaks, R&D takes the prototype back and engineers a way to make the final product better. If it doesn't break, they make it better anyway, because they thought of some improvements while watching the class work.
Century also works alongside professional martial artists when making our products. We send samples of certain new products to John Hackleman's The Pit gym, where MMA fighters test it out. We've also teamed up with Matt Hughes and Ricardo Liborio, to name a few.

Highest Quality Materials
We have more official tests too. Our products undergo rigorous testing to ensure they meet industry standards. We fill our bags with high-quality material. We firmly believe that the better the equipment you train with, the better your training results will be.

Branded for Excellence
You know the importance of having your school's name and logo on your uniforms. It creates a unified feeling of team spirit and helps promote brand recognition. Take those benefits one step further by branding your bags with your gym's logo as well! Custom bags make your school look great. They add another element of professionalism to your environment. If you don't have a logo, Century will help you create one. Just give your Century Customer Service Representative at (800) 626-2787 with any questions!