Brave Curved Muay Thai Pad
The Body Shield is one of the most popular targets across the martial arts, tactical, and self-defense training spectrum, thanks to the versatility of its large size. Multiple handles give the holder different options, and the Advanced Foam Core (AFC) fil
Description
The Body Shield is one of the most popular targets across the martial arts, tactical, and self-defense training spectrum, thanks to the versatility of its large size. Multiple handles give the holder different options, and the Advanced Foam Core (AFC) fil
Specifications
| | |
| --- | --- |
| Age | Adult |
| Brand | Century |
| Glove Type | Not Applicable |
| Line | Brave |
| Martial Arts Style | Muay Thai |
| Material | Vinyl |
| Shape | Curved |
| Shield Type | Thai Pads |
| Target Type | Not Applicable |
| Hazardous material | False |
Reviews (0)
There are no reviews yet.
THAI PADS OR FOCUS MITTS: WHAT SHOULD I USE?

Partner training is one of the best – and most fun!—components of martial arts or martial arts fitness training. It gives both parties an opportunity to work on distance and timing. It's also a great way for trainers to work one-on-one with their clients, for a workout session that's much more personalized. Don't get me wrong, heavy bags are amazing, but there are a couple of things they just can't do. Like yell at you to keep your hands up, and then smack you upside the head when you don't. Or let you know that there are only 30 seconds left in the round, so those next thirty seconds of punches need to be the hardest, fastest ones you've ever thrown in your life.
Of course, partner training does take some extra equipment (participants aren't going to punch and kick each other, after all). If you've watched partner training, you've probably noticed two distinct kinds of gear used by the holder (non-striking partner): Thai pads and focus mitts (also called punch mitts).
You may be wondering which is better for your class. I've participated in partner training for half-a-dozen years now, and used both. Here's a quick breakdown to give you a better understanding of which one to choose:

Thai pads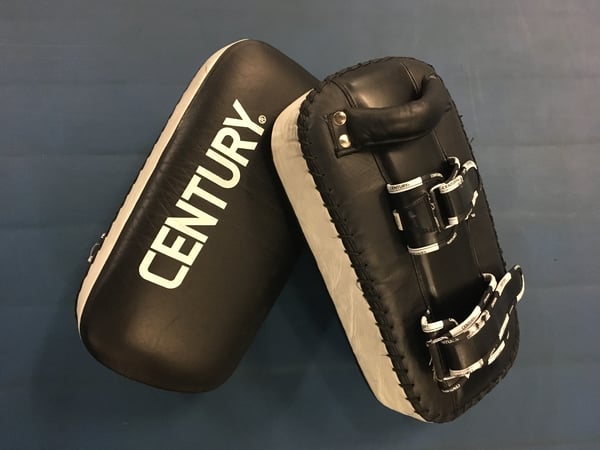 Called "Thai pads" for their common use in muay Thai, or Thai kickboxing, these pads are also great for cardio kickboxing.
Thai pads should be held like this: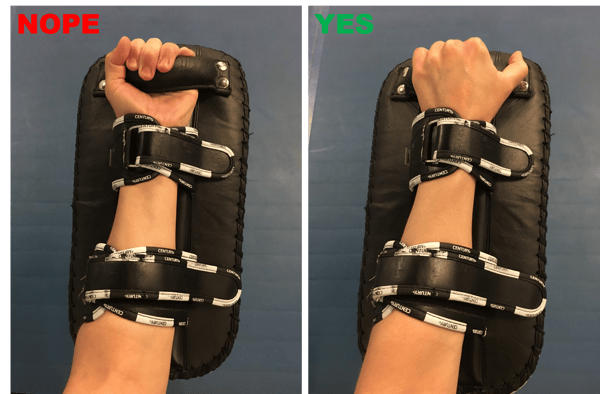 The inside of your forearm should run along the pad, with your palm over the top handle. Do not hold the top handle by placing your thumb underneath it. If you catch a hard enough strike that way, you can break or dislocate your thumb. See the picture below: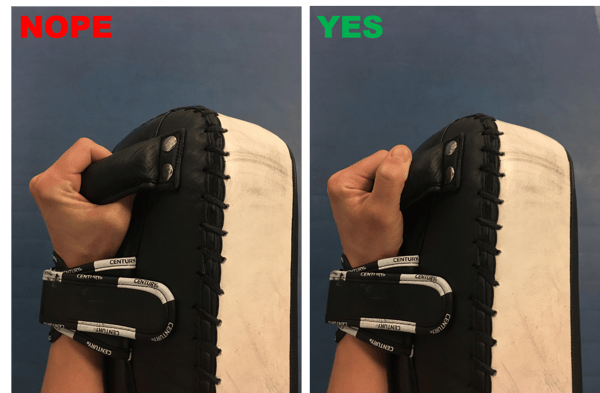 Pros of using Thai pads:
Thick enough to catch all strikes, including kicks and knees
Larger surface area makes missing a strike less likely
At least one adjustable strap (if not two) per pad, plus handles, make them easy to hold
Cons:
A large person kicking hard enough on Thai pads can still hurt/feel uncomfortable if the holder is much smaller – make sure partners are similar sizes!
After a long round with a strong hitter, the pads can start to feel really heavy. This could also be a pro, as it's definitely an extra workout, but not all pad holders may appreciate it!
Focus mitts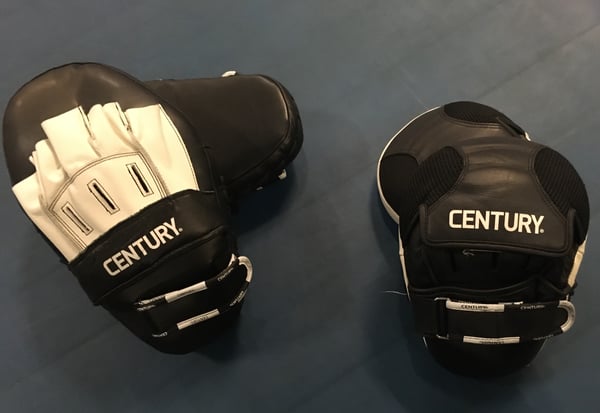 The picture above shows two different sets of focus mitts. All focus mitts are smaller than Thai pads. They cover the entirety of the hand and fingers, and some of the larger ones may extend to midway up the forearm.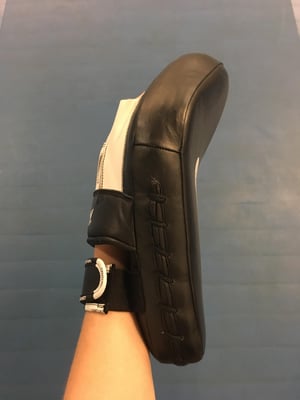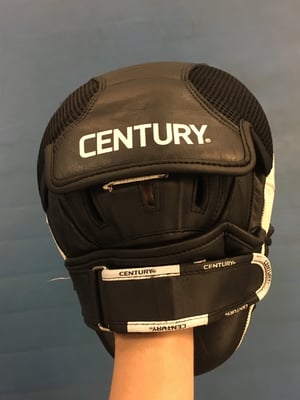 Pros of using focus mitts:
Lightweight and easy to hold
Individual finger channels plus a clear front/back mean that there's little chance of holding them wrong (although some sets do have a distinct left/right mitt)
Smaller size helps striker develop aim and coordination
Cons:
Not great for catching knee strikes
Absolutely should not be used with full-force kicks, and can't catch certain kinds of kicks at all
Some mitts are just slip-on, which doesn't provide the most secure grip especially once the holder starts to sweat. Some mitts have adjustable wrist straps, but I can never seem to get those tight enough (is that just me? Do I have abnormally small wrists???)

You may already be able to tell which way I'm leaning. I have to admit, I'm a fan of Thai pads over focus mitts. Holding the pads might take a little more work, but their greater versatility and impact absorption makes them – in my mind – worth it.
If your class is going to be boxing-only (no kicks or knees), focus mitts may be all you need. But if you want to really ramp up your cardio by adding kicks, Thai pads are your friend!